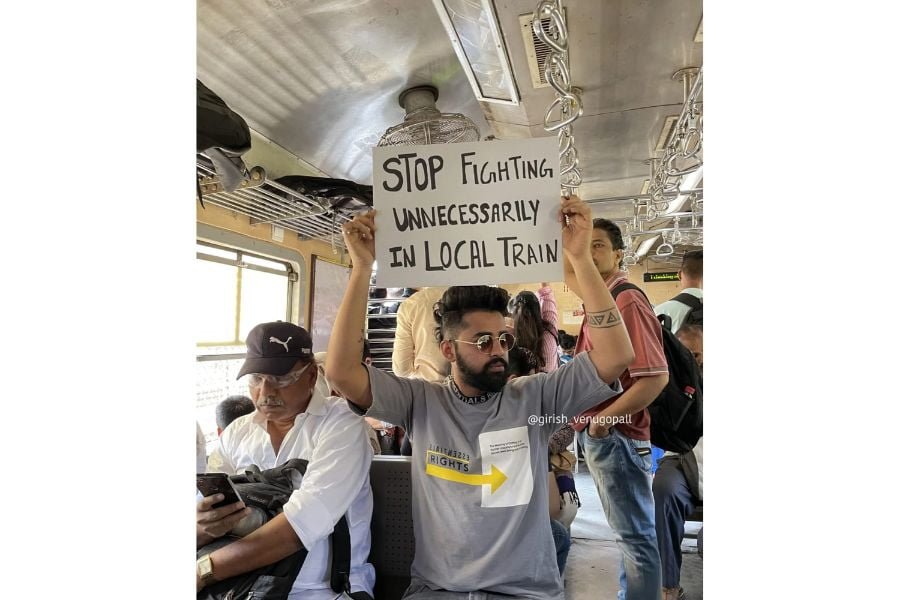 Mumbai (Maharashtra) [India], April 11: Girish Venugopal, a signboard creator, recently made a signboard about the daily chaos on Mumbai local trains, which went viral. The signboard highlights the need for commuters to behave maturely and solve problems like professionals rather than fighting over trivial matters.
In Mumbai, the local trains are a lifeline for many commuters, but they can also be a source of frustration and stress. Every day, people fight over seats, push and shove to get on and off the train, and engage in arguments over small things.
Girish Venugopal's signboard serves as a reminder that everyone is dealing with stress and challenges in their lives, and taking it out on others is not the solution. Instead, commuters should show empathy and understanding towards each other and find ways to resolve conflicts peacefully.
The signboard has struck a chord with many people on social media, who have praised Girish for his message of unity and cooperation. Many have shared their own stories of challenging experiences on Mumbai local trains and called for a change in attitudes and behaviours.
Girish hopes that his signboard will inspire commuters to think differently about how they interact with each other on the trains. He believes that by showing more maturity and understanding, people can create a more harmonious and enjoyable experience for everyone.
As Mumbai continues to grow and expand, the local trains will only become more crowded and stressful. But with the right mindset and approach, commuters can make their journeys more pleasant and productive and help to build a stronger and more connected community.
If you have any objection to this press release content, kindly contact pr.error.rectification[at]gmail.com to notify us. We will respond and rectify the situation in the next 24 hours.