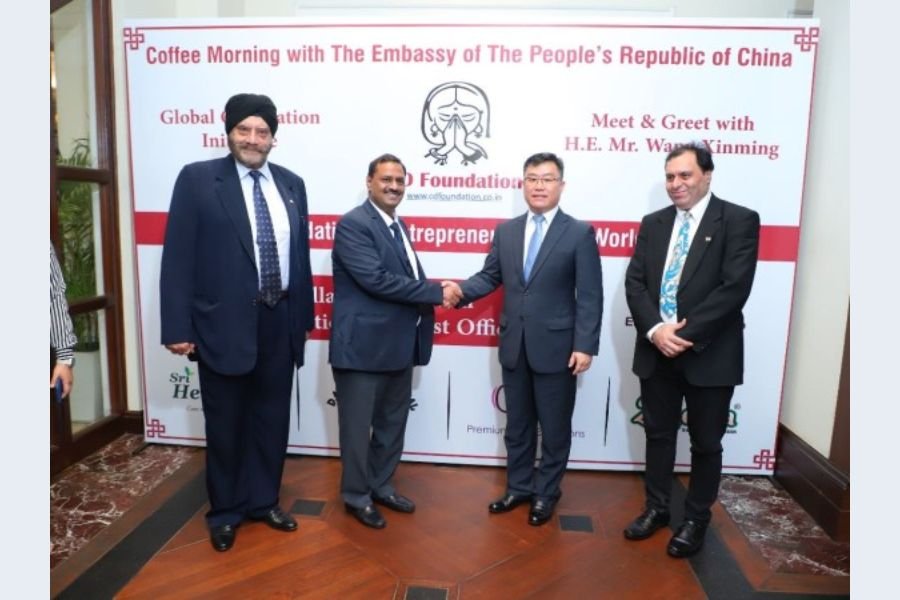 ​Bijender Goel, founder, Modern Pythian Games shaking hands with H.E. Wang Xinming, Minister Counselor, Embassy of China, New Delhi
New Delhi (India), August 1: Bijender Goel, the visionary founder of the Modern Pythian Games, made a passionate appeal to diplomats from China, Indonesia, Iran, Myanmar, Georgia, Belarus, Brazil, UK, and Malta to recommend their governments to recognize the Pythian Games as Traditional Cultural Games. This recognition aims to unlock numerous benefits for artists and players, similar to the opportunities presented by the Olympic games.
The appeal was made during a coffee meeting hosted by His Excellency Mr. Wang Xinming, Minister counsellor, Embassy of China, and the CD Foundation in New Delhi. Esteemed dignitaries from various nations participated in this momentous event.
In his address, Mr. Goel emphasized the importance of preserving unique identities while celebrating the shared humanity that binds us together. He highlighted the power of the Delphi idea of peace and harmony. The Cultural exchange through the Modern Pythian Games can build bridges of understanding and cooperation that transcend borders, paving the way for a brighter future.
The recent global pandemic, COVID-19, brought the world to a standstill, enforcing isolation upon people. The revival of the Pythian Games now stands as a remarkable example of humanity's resilience and unity. It provides an opportunity for people to come together once again, transcending barriers and reigniting the spirit of trust and interconnectedness.
In a world rife with challenges and uncertainties, culture becomes a guiding light, illuminating the path towards a more harmonious and interconnected future. The Modern Pythian Games symbolize the spirit of resilience and unity as they emerged amidst the dark days of the global pandemic. During times of adversity, humanity often finds solace and unity through cultural celebrations, and the Pythian Games serve as a beacon of hope and revival.
Beyond being a celebration, the Modern Pythian Games offer substantial economic growth and development opportunities. Drawing visitors from across the globe, these events promote tourism and boost local economies. By showcasing cultural innovations and traditions, the games leave a lasting impression on guests, creating opportunities for investments, economic exchange, and partnerships. The Pythian Games serve as a powerful platform for nations to engage in soft diplomacy, where cultural exchange becomes a potent tool for building relationships and fostering international cooperation.
Culture serves as the lifeblood of every society, shaping its identity, traditions, and values. The presence of Ambassadors from China, Indonesia, Myanmar, Georgia, Belarus, Iran, the UK, Brazil, and Malta during this gathering is a testament to the power of cultural exchange in uniting diverse nations.
Inspired by the ancient Greek Pythian Games, the Modern Pythian Games encompass various artistic and sporting competitions. These Games are the fusion of various events in Music Arts, Performing, Visual, Social, Language, Digital, Architecture, Martial arts, traditional games, esports, airports, adventures, entertainment games, and various aspects of human expression. They celebrate the kaleidoscope of human achievement, recognizing that every culture contributes something valuable to our shared heritage.
Mr. Goel also announced that Modern Pythian Games have already launched its global multi-language YouTube channel on an experimental basis. The digital platforms of the Modern Pythian Games offer a significant platform for artists and players to showcase their talents and appealed to everyone to subscribe to https://www.youtube.com/@modernpythiangames/streams.
If you have any objection to this press release content, kindly contact pr.error.rectification[at]gmail.com to notify us. We will respond and rectify the situation in the next 24 hours.