Trailukya Dutta, Co-founder, THOLUA PRATISTHAN PVT LTD
1. Can you elaborate on the technology and processes involved in producing high-quality black garlic, and how does it differ from traditional garlic?
Ans: In Assam and other North Eastern states, a rich folklore surrounds the art of producing Black Garlic using age-old indigenous techniques within households. This region is a melting pot of diverse ethnicities, hosting approximately half of India's 450 tribes, as outlined in Chatterjee et al.'s research paper from 2006. Throughout history, the inhabitants of this area have relied on their unique methods of preserving and fermenting foodstuffs to enhance nutrition, prolong shelf life, and elevate taste.
Legend has it that the indigenous tribes would carefully age and cure fresh garlic by placing it within an airtight bamboo cavity on a dhuwachang for years on end. A dhuwachang is a suspended platform above a traditional hearth, used to smoke and heat food for extended storage. This culinary tradition was first introduced to me by my grandmother, who remains a key inspiration for my food business venture since before my school days. Unfortunately, over time, this invaluable knowledge and tradition slipped away. Today, we are on a mission to resurrect this extraordinary product in a more refined and commercially viable manner. While producing black garlic, our paramount focus is to recreate the taste reminiscent of those bygone days, all while adhering to food safety and related regulations.
White garlic stands as a culinary and medicinal superhero, boasting an enigmatic chemistry that can only be unraveled through the lens of science. Despite its potential as a primary player in daily consumption, its pungent sulfuric odor discourages raw consumption. Roasting or deep frying it often leads to a loss of nutritional value, leaving the consumer with less-than-optimal benefits. This dilemma persisted until our indigenous knowledge base illuminated a path to transform negatives into positives, giving rise to Aged Garlic, also known as Black Garlic, a rising star across the globe. As the exclusive manufacturer of Aged Garlic in North East India, we've chosen to market it under the name "Candy Garlic" in our distributed contract farming model.
Aged garlic emerges as a gift to humanity, delivering a host of positive health benefits along with a delightful taste and aroma. In contrast to regular garlic, aged black garlic contains less allicin, which undergoes conversion into the antioxidant compound S-Allylcysteine (SAC). Furthermore, it is rich in essential amino acids, phytonutrients, antioxidants, and significant quantities of vital nutrients such as Vitamin C, B Vitamins (B1, B2, B3, B6), Folate, Calcium, Manganese, Magnesium, Phosphorous, Zinc, and Iron. These bio-active compounds in Aged Black Garlic have been found to be instrumental in treating various lifestyle-related diseases including Diabetes Mellitus, Obesity, Genitourinary Tract Diseases, Digestive Diseases, Inflammatory Diseases, Gastrointestinal Diseases, Cardiovascular System Diseases, Arterial Hypertension, Atherosclerosis, Neurodegenerative Diseases, and Cancer.
Our process begins with carefully selected varieties of raw garlic (allium sativum), which undergo meticulous processing utilizing a high-precision technology. This technology, which we've developed in-house, is designed to function seamlessly in rural environments, even in the hands of micro-entrepreneurs. The choice of garlic variety is crucial in achieving the highest quality output. We're actively encouraging local farmers, particularly those affected by floods, to focus on garlic cultivation under buy-back agreements. This approach not only ensures a supply of garlic free from harmful chemicals but also creates a wealth-generation opportunity for the farmers. Moreover, we've established a business model to accommodate large-scale demands by transferring our technology to entrepreneurs interested in supplying processed garlic. We engage in buy-back agreements with them as well, fostering a mutually beneficial partnership.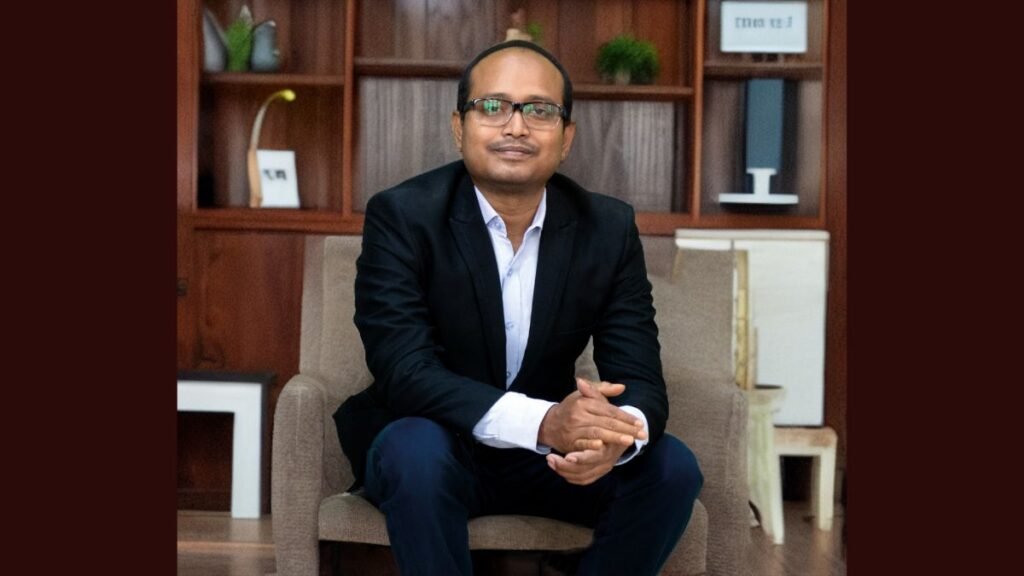 2. In your mission to promote black garlic and indigenous food culture, have you integrated any innovative technologies or techniques to enhance production or distribution?
Ans: As a startup, we are fueled by a commitment to innovation and an inventive mindset, seeking to deliver value while meeting the needs of our consumers. We have been dedicated to investing in research and development from the very inception of our idea. Our continuous exploration of the potential of Biotechnology plays a pivotal role in elevating the value of the food products we meticulously create. While our product recipes draw inspiration from indigenous traditions, we rigorously establish precise protocols and standard operating procedures for their commercialization. Take, for instance, our method for producing Black Garlic. The original indigenous process was time-consuming, unpredictable, and susceptible to contamination. Through our innovative approach, we've overcome these challenges, not only heightening the nutritional value but also streamlining the production process for optimal efficiency.
3. Could you share insights into how Tholua Pratisthan uses technology to source and manage raw ingredients from local farmers in Assam?
Ans: Our primary focus lies in collaborating with smallholder farmers and households with modest homesteads. In Assam, the digital commerce infrastructure for agricultural commodities is still in its nascent stage of development. Given the predominantly small-scale nature of farming in this region, many farmers lack the resources for advanced infrastructure. In light of these challenges, we've established Standard Operating Procedures (SOPs) for rigorous quality checks. Additionally, we facilitate connections between farmers and their nearest Krishi Vigyan Kendra (KVK). Through KVK assistance, we provide farmers with training on comprehensive farming practices and post-harvest processing techniques. Quality assessments of raw materials take place both at the supplier level and within our warehouses to ensure the production of high-quality end products.
4. Many startups today are leveraging digital platforms for marketing and reaching consumers. How has technology played a role in expanding the reach of Tholua Pratisthan's products?
Ans: We use digital platforms to connect with consumers and establish our presence on various e-commerce platforms. In fact, we take pride in being the pioneering startup from Assam to conduct transactions on the ONDC platform.
5. As a company committed to preserving cultural heritage, how are you using technology to document and share traditional food recipes and practices from Assam?
Ans: We maintain a substantial collection of traditional food recipes originating from North East India, and our exploration in this area continues. We have established connections with a noteworthy number of scientists who are actively involved in documenting these recipes for posterity.
6. With the increasing demand for healthier food options, have you explored any digital solutions for educating consumers about the nutritional benefits of black garlic and indigenous foods?
Ans: Our presence extends across numerous marketplaces, where we disseminate information on the unique value of black garlic and mood food. Each of our products is furnished with QR codes that guide consumers to detailed product literature. Additionally, we actively engage in online conferences to raise awareness about our offerings.
7. Data analytics and consumer insights are critical in the food industry. Can you discuss how technology has helped Tholua Pratisthan better understand consumer preferences and tailor its offerings accordingly?
Ans: As a startup, our mission is to introduce natural bio-active Mood Food, providing a holistic path to mindfulness and well-being. The segment we are venturing into demands extensive consumer insights and industry validation. Whenever possible, we prioritize direct engagement with our customers, aiming to create personalized experiences. To facilitate this, we've established a dedicated Consumer Care team accessible through Toll-Free and WhatsApp numbers, enabling us to actively listen to and act upon customer feedback.
Furthermore, we harness the power of Google's Analytics platform, which proves invaluable in comprehending consumer behavior and preferences. In addition to this, we have access to a wealth of secondary data and numerous scientific research papers pertaining to market trends and consumer preferences, all readily available on the internet. It is our belief that this access to data and information is instrumental in helping us stay attuned to the ever-evolving tastes and preferences of our consumers.
8. Given your background in different fields, how has your experience in technology influenced your approach to building and growing Tholua Pratisthan as a startup with a tech-savvy edge?
Ans: I've had the privilege of working across diverse industries, spanning logistics, consumer electronics, and consumer goods. This experience was particularly significant during the industry's transition from GPRS to 3G technologies. This shift provided me with a range of opportunities to align with emerging trends and infuse innovation into this startup. It's worth noting that embracing technology for business growth has been a central theme throughout my journey thus far.
In today's landscape, the integration of innovation and technology is paramount for gaining a competitive edge. Here at THOLUA, we consistently leverage technological advantages in product design, packaging, marketing, and distribution strategies. We're assembling a dynamic team of young professionals with diverse scientific and technological backgrounds, including pharmacists, food technologists, biotechnologists, architects, agricultural scientists, and experts in human capital management. Our team understands the transformative power of technology in enhancing our products and expanding their reach to a wider audience.
If you have any objection to this press release content, kindly contact pr.error.rectification[at]gmail.com to notify us. We will respond and rectify the situation in the next 24 hours.